ABOUT WEB ACCESSIBILITY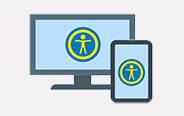 Accessibility refers to the ability of every person to access the information presented in a course,, no matter what the mode of delivery. Whether distance ed or in-person with digital components, all materials should be accessible, including web pages, videos, documents and files, and other web-based or electronic media sources.
Accessible distance education takes into account the special needs of people with auditory, visual, mobility, and cognitive impairments. Accessible materials give these users an equivalent browsing, viewing, and communication experience to that of non-disabled individuals.
 
WHICH ONLINE MATERIALS NEED TO BE MADE ACCESSIBLE?
All Web-based HTML files, PDF files, PowerPoint presentations, Word documents, Excel spreadsheets, video files, audio files, etc. must be made accessible.
All Web-based materials for use with online, hybrid, blended, or face-to-face classes must be compliant.
Content created within the Canvas learning management system by the instructor.
Files uploaded to the Canvas learning management system by the instructor.
Material created or controlled by the instructor, but hosted on another server.
Class content maintained and hosted elsewhere will be reviewed for compliance, including class content provided by textbook publishers and third-party websites.
Best Practices to Achieve Online Accessibility
Maintain accessible pages in the course management system (Canvas). 

Add alternative text to images
Use correct headings and lists
Add table header cells to data tables
Use colors with strong contrast
Write descriptive hyperlink text
See the Canvas Accessibility page for more information.​
Create Documents using accessibility guidelines and retain original files in case of need to remediate. Distance Education especially provides support in this area. See:
Request Captions for instructor-created media through 3C Media Solutions.
Use captioned 3rd party media whenever possible. See:
Work with the Instructional Accessibility Specialist to prepare accessibility plans for inaccessible content.
Periodically test course with UDOIT.
Participate in review of each online and hybrid course with Instructional Accessibility Specialist every 6 years.
Distance Education Services
Offers training and consultations to faculty.
Provides how-to tutorials and step-by-step instructions via the Distance Education web site.
Reviews courses for accessibility and provide feedback and support to instructors.
Assists instructors with difficult accessibility compliance tasks including remediation of PDFs, Word, and PowerPoint documents.
Supports accessibility plan development to proactively address course barriers.