3C Media Solutions is a platform provided to us by the Chancellor's Office for storing and delivering media. They are being rebranded to "TechConnect Cloud".
One of the greatest advantages of using 3C Media Solutions/Tech Connect Cloud is the option allowing you to order quality captions.
REGISTER FOR AN ACCOUNT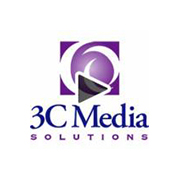 Go to this page to register to get an account.
The link, "Register", is in the upper right corner of the homepage. Simply click on the link, enter your name, email address, and college, and your account will be created within minutes.
Before you can upload media, you need to make another request. This is a simple process that you will be prompted to do. See the Requesting Permission to Upload Media support page for detailed instructions.
There will likely be a couple of days before you will be granted access to upload media.
UPLOADING MEDIA
Order Captions through the 3C Media and the DECT grant
NOTE: Starting June 30th, 2023, this feature is temporarily not available while the DECT grant goes through the process of switching to a new college overseeing it.
You can order captions through 3C Media, and now you have the option to choose quality, human-generated captions, or auto-generated captions (that will need to be edited to correct errors and add punctuation). If you have a deaf/hard of hearing student enrolled in your course, and you need the videos sooner than the 5 business days turnaround, contact the Instructional Accessibility Specialist for assistance. For third-party videos, you will need to contact the Instructional Accessibility Specialist to submit videos for captioning (using the DECT grant).
When logged into 3C Media, follow these steps:
Log in to your 3C Media account (3cmediasolutions.org)
From your "Media" tab, click the "Details & Options" link to the right of the media you want captions for
Under "Tools", click on "Submit this Media for Captioning"
Fill out and submit the form. You will need to input the length of the video, the Section number, and the Term.
Choose from the "Caption Type" drop down "human generated"
Once created, (usually within 5 working days, depending on length), the caption files will automatically appear.
For better quality control, provide a list of vocabulary terms or phrases you use in your multimedia files that are specialized to your subject.
Editing Captions
You can download the caption file once it is created and easily correct captions as needed in a text editing software program, such as Notepad on the PC, or TextEdit on the Mac.
See steps to edit the caption file in text editing software. 
TechConnect Cloud/3C Media has caption editing software integrated in the site called Subtitle-Horse.
See the subtitle-horse editor - user guide
See subtitle-horse editor tutorial videos 
REQUESTING HELP FOR CAPTIONING 
Form to request multimedia captioning or transcript assistance
See the Multimedia Accessibility page for more information on ADA compliance for course multimedia
Embedding or Linking to Your Videos in Canvas
You do not need to upload videos to Canvas, you will either link to or embed the video using code from 3C Media
Log into 3C Media and navigate to the Media tab
Click on the Details and Options link to the right of the thumbnail

Copy either link URL or Embed code

Place Embed Code in Canvas
In Canvas, navigate to the page to embed video
Click on Edit button to enter editing mode
Place cursor where you want to embed
In the Rich Content Editor tools, click on the Insert/Edit Media button

 
Click on the Embed tab and enter copied embed code from 3C Media