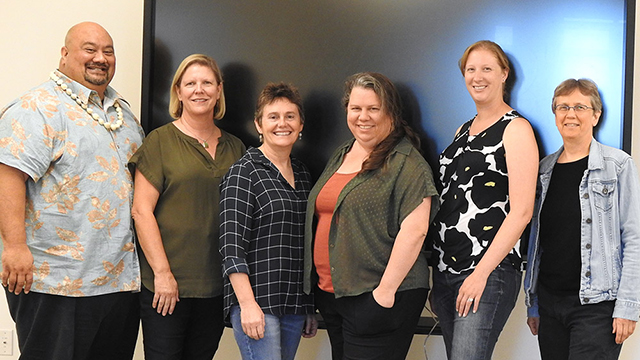 The Distance Education department at Santa Rosa Junior College assists faculty in the development and implementation of online and hybrid courses, as well as supporting the use of our course management system for all classes. In addition, we offer workshops, drop-in sessions, and one-on-one appointments to help faculty with issues such as online pedagogy, the use of online instructional tools, multimedia creation and delivery, captioning and copyright, and more.
Distance Education staff

Lisa Beach
Director of Distance Education
lbeach@santarosa.edu
707-524-1877

Michele Larkey
Instructional Designer
mlarkey@santarosa.edu
707-521-7937
 

Corrine Haverinen
Instructional Accessibility Specialist
chaverinen@santarosa.edu
707-527-4699
M. Liko Puha
Instructional Systems Administrator
mpuha@santarosa.edu
707-521-7949
Doyle 3rd Floor, Room 4411
---
CONTACT DISTANCE EDUCATION
Phone: (707) 527-4808
Mailing Address: 
Distance Education office
Santa Rosa Junior College
1501 Mendocino Avenue
Santa Rosa, CA 95401
About CETL
See information about the Center for Excellence in Teaching and Learning (CETL) area on the Doyle Library third floor.
CETL Studio
Distance Education oversees a multimedia recording studio located in CETL, outfitted with a video camera, microphones, green screen, learning glass, whiteboard, lighting, and a computer with video editing software.
See more about the CETL Studio, and how to sign up to use it.
Distance Education Offices
The Distance Education offices are located on third floor of Doyle Library, on the Santa Rosa campus:
Rooms 4410, 4411, and 4412, located in the South East side of the building in a locked area. Use the phone by the door to call staff.
Rooms 4423, 4424, 4426, and 4427 located in the Center for Excellence in Teaching and Learning (Room 4421) at the South West side of the building