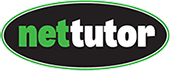 NEW ONLINE TUTORING SERVICE – NET TUTOR
Live One-on-One Tutoring  •  24/7 Help Available in Many Subject Areas
Santa Rosa Junior College offers every student the opportunity to work with a tutor at no cost to become more successful in their courses.
NetTutor is an online tutoring system that allows you to meet with a tutor from anywhere - you just need a computer, tablet or smartphone with Internet access.
See how to videos about NetTutor on YouTube
NOTE: SRJC is now using NetTutor, and no longer using SmartThinking.
---
ACCESSING NET TUTOR
Access Net Tutor through your Canvas course
Some instructors will link to NetTutor from within the Canvas course. Go to course Settings, then click the Navigation tab. Enable NetTutor by clicking on the 3dot stack and selecting +Enable. Click Save!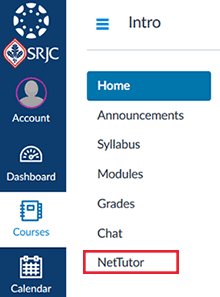 Access Net Tutor from the Student Portal
Login to the SRJC Student Portal(myCubby)
Go to the Quick Links section
Click the NetTutor link towards the bottom of the Quick Links section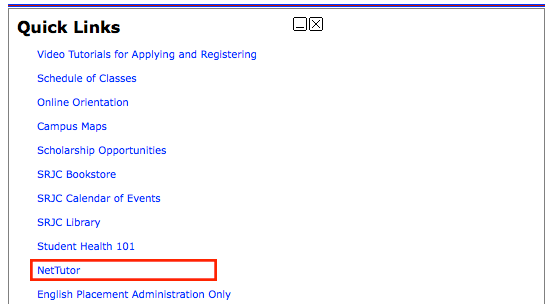 Courses Covered
Online math tutoring is available 24 hours a day, every day of the week.
Writing assignments can be submitted 24 hours a day, every day of the week and all writing submissions to NetTutor will maintain a 48 hour turnaround time.
All other subjects will follow the NetTutor subject hours for the semester.
Subjects covered include:
Accounting
Administration of Justice
Anthropology
Astronomy
Biology
Business
Chemistry
Child Development
Communications and Speech
Computer Science and IT
Economics
English and Literature
Finance
French
Geology
German
Health and Nutrition
History
Italian
Logic
Math (Algebra, Basic Math, and Pre-Calculus)
Math (Calculus and Above)
Math (in Spanish)
Math (Statistics)
Philosophy
Physics
Political Science
Psychology
Sociology
Spanish
Preparing for Tutoring Sessions
See NetTutor's guide to preparing for tutoring sessions (PDF)
Net Tutor Support
NetTutor offers a Help Line for getting support. You will need to sign up for an account to access the Help Line.