Background
State-wide California Community College initiatives required the implementation of Single Sign-On (SSO) by the District for accessing the Student and Faculty Portal and the SRJC Canvas Learning Management System.
The new Single Sign-On verifies if the authenticating user has a California Community Colleges ID (CCCID). If the user does not have a CCCID, the user is re-directed to the CCCApply site to acquire one.
Currently, faculty authenticate with either their SID (9-digit Staff Identification number) + PIN Code or SRJC Username + Outlook password.
Students authenticate with their SID + PIN Code only.
Impact
Faculty will bypass the CCCID requirement by using their SRJC Username + Outlook Password to access the Faculty Portal and SRJC Canvas Learning Management System.
Your SRJC Username is the prefix of your District email address.
Your Outlook Password, created by you, is used to access your District email.
Example
Name: John Doe
SRJC Email Address: jdoe@santarosa.edu
SRJC Username is jdoe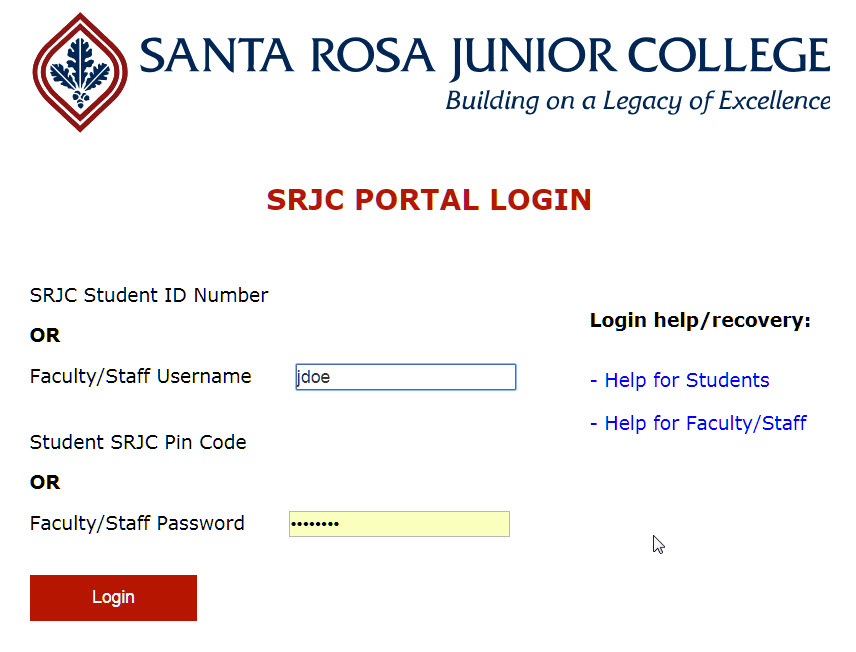 Students will be required to have a CCCID to access SRJC's Canvas. Students will receive a separate communication regarding this issue.
Frequently Asked Questions (FAQ)
What is Single-Sign-On?
Single Sign-On is an authentication control for accessing multiple software systems using a single ID and password.
How do I access the Faculty Portal?
Most every page of our college website contains a login link in the upper left of the web page. 

How do I access Canvas?
We recommend starting at our college website home page.
1. Click FACULTY/STAFF in the navigation bar. 2. Click Canvas.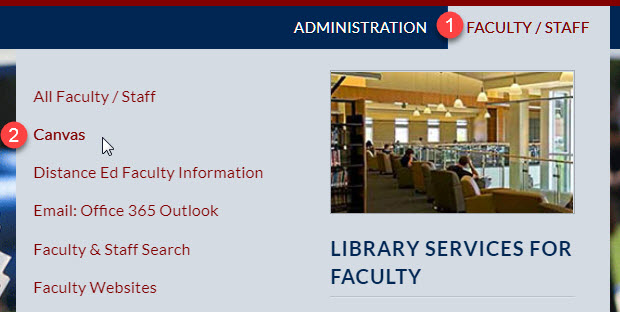 What if I am a student and faculty?
If you do not have a CCCID, and would like to continue taking classes at any California Community College, you will be required to acquire one. You will still be able to log on to the SRJC Faculty and Student Portal and SRJC Canvas system using your SRJC Username + Outlook Password.