Purpose
Pronto is a messaging tool that allows students and teachers to experience the ease of text message communication without having to exchange private phone numbers. If faculty choose to use Pronto, it can be accessed within Canvas, on a mobile application, and/or a web desktop application.
Description
Pronto is an all-in-one communication tool designed with mobile communication in mind.  With Pronto, students and teachers can easily send private, small group or whole-class messages. It can also be used to share files, gifs, emojis, and images, and launch on-the-fly video calls. 
Pronto enhances course communication and helps facilitate small-group work.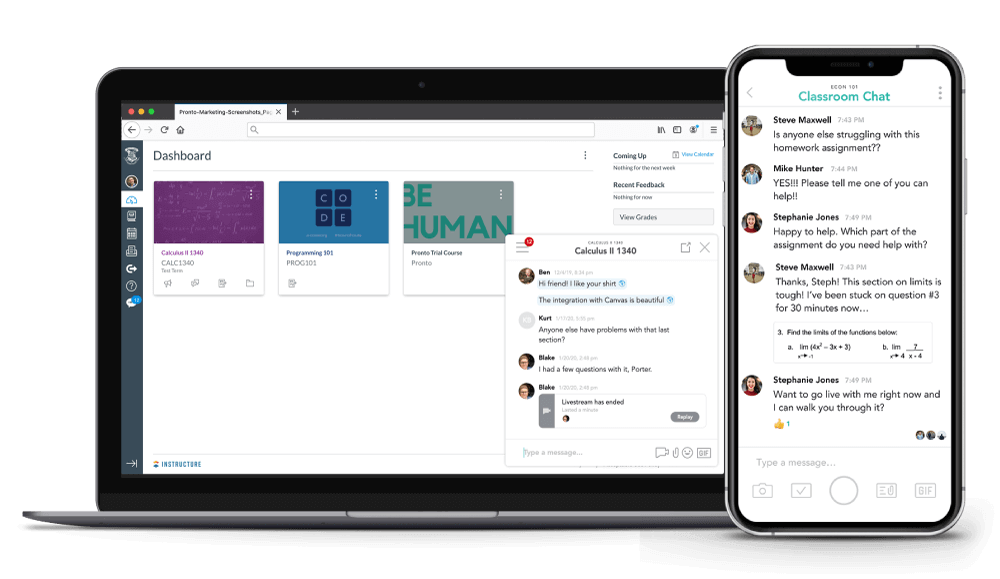 Here are some of Pronto's key features:
easily reach students where they are
file-sharing
posting animated GIFs, images, and emojis.
a video conferencing tool that lets instructors and students create and meet with each other in their own video meetings. This can be used for student study sessions or for live tutoring sessions. These meetings can be recorded to be watched later.
a task manager
live message translation into another language
Watch the 4-minute Pronto General Overview video to learn about it's key features. Please note that to log into the Pronto mobile app, you should use your SRJC email:
See how one CCC instructor uses Pronto to enhance communication and connection in her courses: Glendale Community College: Canvas and Pronto
How to Use
Watch the videos below to learn more about Pronto's Canvas integration and how to make the most of Pronto's mobile app.
Test It Out
You can turn Pronto on in a sandbox course shell so that you can test it before going live with your students.  To turn Pronto on or off for a specific course, use their Course Management Tool.  This tutorial covers that process.
Sample Syllabus Language
For this course, we will be utilizing the Pronto messaging tool. It can be accessed in Canvas by clicking on the Pronto icon on the left side of Canvas or by downloading the Pronto app to your mobile phone and logging in via your SRJC email. This is a real-time communication tool where I will be sharing resources, adding announcements, cultivating collaboration, and generally steering the direction of the course week in and week out. I will be monitoring Pronto to answer your questions in the general course group chat or via direct message Monday - Friday from 9am to 5pm. As with all communication in the course, I expect you to behave appropriately and treat myself and your fellow students with respect while using Pronto an accordance with SRJC's student conduct policies.  
Tool Information