ONLINE COLLEGE PROJECT OVERVIEW
The Online College Project provides incentives to encourage both full-time and part-time faculty to develop new online courses. Historically, the Project has been focused only on courses which had not previously been taught online. However, since nearly all courses have been taught online during the pandemic, all courses will be considered.
Funding for this project is limited, so in order to best serve the needs of students, priority consideration is given to:
Science, Math, General Education, and CE (formerly CTE)
Courses with high enrollment demand
Courses that are part of an existing or proposed online major or certificate (these are programs that have 50% or more of their courses online)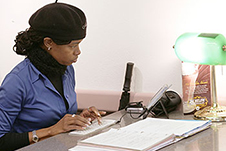 HOW TO APPLY (PLEASE NOTE DEADLINE)
Before applying, reach out to your Dean and Chair to ensure that the online course you want to create is one that they will approve. Since you will eventually need their signatures, it's better to do this in advance.
Once you have discussed with and received approval from your Dean and Chair, please complete* the Online College Project Faculty-District Agreement, including all necessary signatures, and return it to the Director of Distance Education no later than January 25, 2021. 
*Save the form before completing it (do not complete it while in a browser)
Before completing the PDF form, right-click the link to download it to your computer or network drive. Then open it with Adobe Reader and fill it in. Type information directly into each field or copy and paste the text. You can save your data and re-open the file later to modify or enter additional information.
IMPORTANT CONSIDERATIONS
Before application to the OCP is approved:
Courses will be developed in the Canvas course management system. The development process will include the use of the state's Course Design Rubric , several meetings with our Instructional Designer, and a complete review of the course for accessibility compliance. Particular attention is paid to "regular and effective contact" between the instructor and students equal to that of a similar face-to-face section over the course of each week. The following elements of the Course Design Rubric should be evident in Canvas for each week of the course:  
Instructor participation in discussions and activities (Rubric section B1)
Student-to-student interactions are required as part of the course (Rubric section B2)
Note that the Distance Education staff will be available to assist instructors with their OCP work based on staff availability.
FACULTY INCENTIVE
The Online College Project offers faculty compensation for completing all Online College Project requirements based on Article 32.02.H of the AFA contract.
If you have any questions, please contact the Distance Education Director.