Distance Education oversees a recording studio in the Center for Excellence in Teaching and Learning (CETL) on the 3rd floor of Doyle Library. 
In this video, we take you to the Center for Excellence and Teaching and Learning on the third floor of Doyle Library to show you where blockbuster instructional videos are made by SRJC's faculty. 
Stand in front of a green screen to be transported to exotic locations with special video effects.
Watch example Learning Glass videos and imagine yourself delivering vibrant lecture videos while projecting slides, images, and video.
Make use of a plethora of multimedia tools including the latest in iPad technology for recording whiteboard videos and screencasts.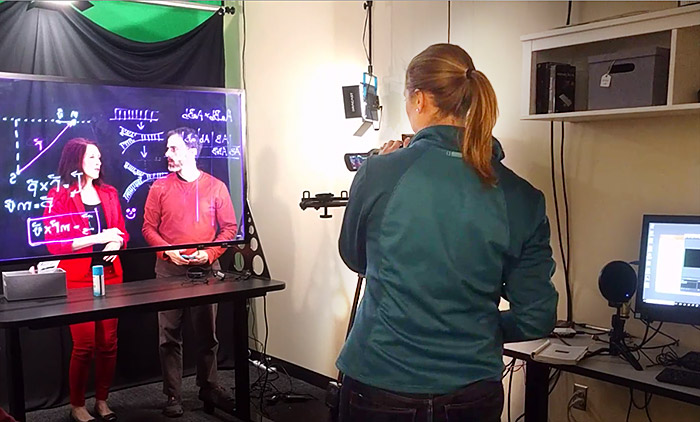 Multimedia Types
Types of multimedia that can be created in the studio include:
Welcome videos – introduce students to you and your course
Whiteboard or light board videos – draw to help students visualize difficult concepts
Video modeling -- demonstrate a new skill
How-to tutorials – walk students step-by-step through a process
Guest interviews – expose students to multiple perspectives
Lectures or mini-lectures – use voice, gesture, facial expression, and eye contact to connect with students
Slideshow videos – use graphics and outlines to illuminate lecture topics
Sketchnote videos – record pen & paper sketches to visually interpret information
Tools
Video camera
Teleprompter
Learning Glass
iPad
Elmo document camera
Screencast-o-matic
Camtasia
Adobe suite
Zoom
Webcam
USB microphone & headphones with mic
ViewSonic interactive Flat panel
Reserving time in the CETL Studio
Use the CETL Studio Sign up page to reserve time in the recording studio on the 3rd floor of Doyle Library in the Center for Excellence in Teaching and Learning.
You are welcome to reserve the studio for up to 3 hours per day. 
You will need to list the tools you will use so staff can have them ready. If you have any questions about the studio or the tools, contact the Distance Education staff.