Before any face-to-face classroom time can be replaced with online instruction, the instructional department is to submit to the Curriculum office a Distance Education addendum. The DE addendum is approved by the Curriculum Review Committee. The logistics outlined below utilizes Canvas to facilitate submitting and updating the DE addendum forms as described in Step 1. (Even if the course has been taught face-to-face, it still goes through the formal curriculum approval process to check that the course outline of record is current and the components of an online class are in place.)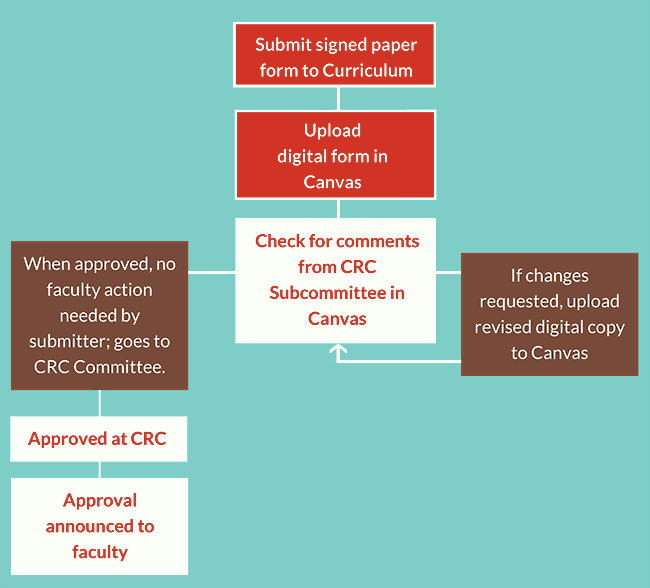 These steps are for courses that are not currently approved for online, hybrid, or blended delivery. Upon approval of the DE addendum, the course becomes permanently available for online delivery by any instructor as the department sees fit. Contact Chas Crocker in Curriculum to find out if the course you would like to teach online is already approved, curriculum technician: (707) 527-4521, ccrocker@santarosa.edu.
Step 1. Discuss course with department chair 
Begin by meeting with and discussing your plans for the course with your department chair and determine how your department makes decisions and recommendations for curriculum changes. Once you have department support move to Step 2.
Step 2. Distance Education Addendum 
With the support of your department, enroll in the Distance Education Course Addenda. The purpose of enrolling in this module is to guide you through the steps for creating a new Distance Education Course Addendum at SRJC. NOTE: Estimated time to complete the steps is 2 hours.
Follow these instructions to enroll
Click on the link below to enroll in the, Distance Education Course Addenda in Canvas:
Summer/Fall 2020 Distance Education Course Addenda Deadline January 21, 2020
Next, you will be prompted to enroll in the course, as shown in this screenshot:

Then, you will be prompted to go to the course, as shown in this screenshot:

Once you are in the course, follow the instructions provided there to submit the DE Addendum form to the Curriculum Review Committee.
Step 3. Curriculum Review Committee Approval
Check the Canvas course for feedback from the Curriculum Review Committee. Follow instructions in the Canvas course to respond to feedback and to submit the signed form to Curriculum.
Step 4. Instructional Department Planning & Requirements
After a course has been approved for online delivery, the instructional department determines which sections will be delivered online and which instructors will teach those sections, based on department guidelines. Some departments might require an Online Special Expertise. Check with your instructional department for details.
Deadlines
Note the deadlines for submitting curriculum addenda plan accordingly so that the curriculum approval process is completed well before schedule planning is due for the semester in which you want to teach the class. For curriculum deadlines, forms, and details see the SRJC Curriculum homepage. If you have questions about the curriculum approval process, contact Chas Crocker, curriculum technician: (707) 527-4521.